Suggested Books: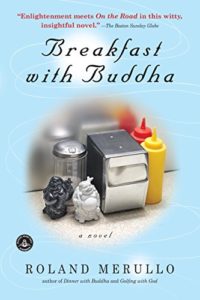 Breakfast with Buddha by Roland Merullo
When his sister tricks him into taking her guru on a trip to their childhood home, Otto Ringling, a confirmed skeptic, is not amused. Six days on the road with an enigmatic holy man who answers every question with a riddle is not what he'd planned. But in an effort to westernize his passenger–and amuse himself–he decides to show the monk some "American fun" along the way. From a chocolate factory in Hershey to a bowling alley in South Bend, from a Cubs game at Wrigley field to his family farm near Bismarck, Otto is given the remarkable opportunity to see his world–and more important, his life–through someone else's eyes. Gradually, skepticism yields to amazement as he realizes that his companion might just be the real thing.
In Roland Merullo's masterful hands, Otto tells his story with all the wonder, bemusement, and wry humor of a man who unwittingly finds what he's missing in the most unexpected place.
A sequel, entitled Lunch with Buddha, is now available. In a starred review, Kirkus magazine called this novel which continues the journey of Otto and Rinpoche, "a beautifully written and compelling story about a man's search for meaning that earnestly and accessibly tackles some well-trodden but universal questions" and a "quiet meditation on life, death, darkness and spirituality, sprinkled with humor, tenderness and stunning landscapes."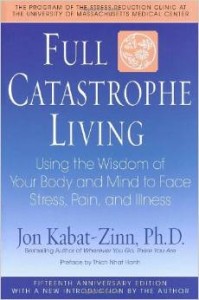 Full Catastrophe Living, Revised Edition: How to cope with stress, pain and illness using mindfulness meditation by Jon Kabat-Zinn
Stress. It is everywhere around us. Even worse, it gets inside us: sapping our energy, undermining our health, and making us more vulnerable to anxiety, depression, and disease. Now, based on Dr. Jon Kabat-Zinn's renowned mindfulness-based stress reduction program, this groundbreaking book shows you how to use natural, medically proven methods to soothe and heal your body, mind, and spirit.
By using the practices described within, you can learn to manage chronic pain resulting from illness and/or stress related disorders…discover the roles that anger and tension play in heart disease… reduce anxiety and feelings of panic…improve overall quality of life and relationships through mindfulness meditation and mindful yoga. More timely than ever before, Full Catastrophe Living is a book for the young and the old, the well, the ill, and anyone trying to live a healthier and saner life in today's world.
The Four Agreements: A Practical Guide to Personal Freedom (A Toltec Wisdom Book) Paperback – by Don Miguel Ruiz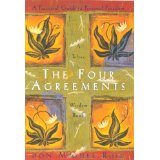 Rooted in traditional Toltec wisdom beliefs, four agreements in life are essential steps on the path to personal freedom. As beliefs are transformed through maintaining these agreements, shamanic teacher and healer don Miguel Ruiz asserts lives will "become filled with grace, peace, and unconditional love. Once I began incorporating these four simple agreements into my daily life, I began to take responsibility and stopped being a victim.
Carry On, Warrior: The Power of Embracing Your Messy, Beautiful Life by Glennon Doyle Melton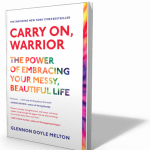 Winner of a Books for a Better Life Award
The inspiring and hilarious instant New York Times bestseller from the beloved parenting expert, public speaker, and founder of Momastery.com whose writing "is like a warm embrace" (FamilyCircle.com).
Glennon Doyle Melton's hilarious and poignant reflections on our universal (yet often secret) experiences have inspired a social movement by reminding women that they're not alone. In Carry On, Warrior, she shares her personal story in moving, refreshing, and laugh-out-loud-funny new essays and some of the best-loved material from Momastery.com. Her writing invites us to believe in ourselves, to be brave and kind, to let go of the idea of perfection, and to stop making motherhood, marriage, and friendship harder by pretending they're not hard. In this one woman's trying to love herself and others, readers will find a wise and witty friend who shows that we can build better lives in our hearts, homes, and communities.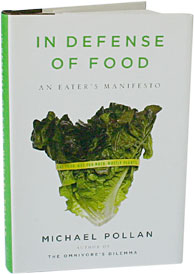 If you are looking for some straight talk about how to eat healthy Michael Pollan's In Defense of Food is a great place to start. "Eat food, not too much and mostly plants" is Pollan's advice after  years of being told by the Food Industry, Nutrition Experts and the Media they can make us healthier. The truth is our country is less healthy now that it has ever been. Read why and what we can do about it in Pollan's latest project.
Reviews:
Janet Maslin, The New York Times – "A tough, witty, cogent rebuttal to the proposition that food can be reduced to its nutritional components without the loss of something essential … [a] lively, invaluable book."
David Laskin, The Seattle Times – "Written with Pollan's customary bite, ringing clarity and brilliance at connecting the dots."
Jane Black, The Washington Post – "A remarkable volume … engrossing … [Pollan] offers those prescriptions Americans so desperately crave."
Read more at http://michaelpollan.com/books/in-defense-of-food/