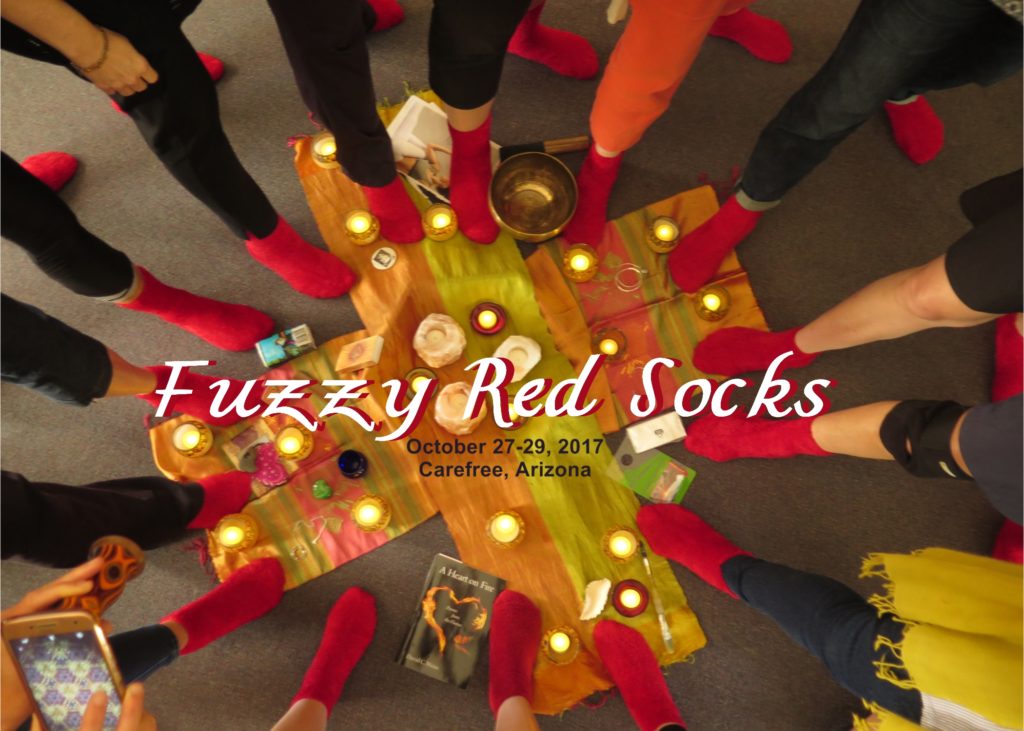 I always say that I get so much more from those who attend our Fuzzy Red Socks retreats than I give, and the most recent retreat was no exception. Fifteen wise and wonderful women gathered in the desert in Carefree, Arizona, for three glorious days of yoga, meditation, sound healing, yoga nidra, healing touch, aroma touch, SoulCollage and lots of relaxation, reflection, and feeling rejuvenated.
Here are 13 lessons I learned from these incredibly smart, authentic, bold and beautiful women ranging in ages from 23-74.
1. Feeling down or unattractive? Apply lip stick and repeat often. (Kathy R.)
2. Be your own hero – because, really, you truly are a HERO. (Janelle P.)
3. High Five your blessings! Be grateful for all you have and all you are. (Clare K.)
4. Hang out with women three times your age and gain valuable wisdom, insight and a new view of your Mom. (Maggie M.)
5. Yoga at sunrise is good for the soul. (Reggie A.)
6. Double your investment and go on retreat with the love of your life. You will both return to your life refreshed and feeling rejuvenated. (Dominique R. and Sharon R.)
7. Try on someone else's glasses and see the world (and yourself) from a different point of view. (Dana M. and Pam D.)
8. Look up, stretch your neck long, and kiss the sky regularly and reap the benefits of a tighter neck and less wrinkles and a happy heart. (Kathy R.)
9. Stop and smell essential oils (and while you're at it, get a doTerra Aroma Touch session). (Joni Z.)
10. Have the courage and go to an out of state retreat even though you and many of your clients/friends have just gone through the most traumatic experience of the Sonoma, California fires. (Jackie J.)
11. Sing loud and sing proud – regularly. (Kathryn W.)
12. Let water sooth your soul. Whether it's a lake, pool, river or just the shower, you can find peace in getting wet! (Mary D.)
13. Find a way to unplug, really, by partnering with others in your business. You deserve a true vacation and the ability to really be "off work." (Patricia O.)
Embrace even one of these insightful lessons from these incredibly wise women today for your daily dose of self-care.
For more ideas on how to "self care" – yes, it is a verb – go to Fuzzy Red Socks.